Superior Data Accuracy
Gain a comprehensive and holistic view of your operations. Through advanced analysis, we delve into equipment, people, and overall processes, ensuring no aspect is overlooked. Our platform employs advanced statistical techniques to continuously monitor data, identifying any potential errors or anomalies.
Our mission is to provide ethical manufacturers all over the world with the tools to collect, interpret, and uncover valuable insights that help them compete.
We believe that in order to collect exceptional data you must review it from 3 different perspectives, failing to do so could alter the way you interpret your results.
1
Human Action
Unique skills impact a person's ability to perform different tasks.
Work Order Productivity
Consistency of Pace
Engagement with Instruction
2
Equipment Usage
Optimal selection and proper upkeep of equipment yields greater productivity.
Setup Duration
Value Added Time
Down-Time Frequency
3
Operational Challenges
Failures to support your production process significantly alter your capacity.
Work Order Productivity
Consistency of Pace
Engagement with Instruction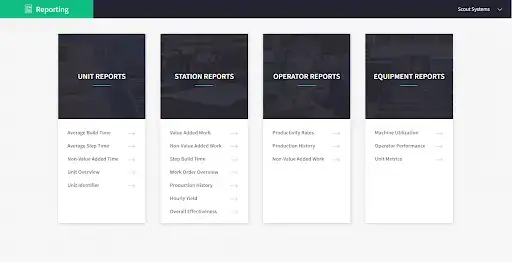 Production Reports
Unlock insights by visualizing your data with our library of pre-made reports ranging from generic to specific conditions. Go beyond basic averages and drill into individual task time performances, do root cause analysis of your down-time, and benefit from dynamically updating performance metrics.
API Portal
Open the world of new forms of automation with our API Portal. Connect our platform to your ERP, Maintenance and Quality Management systems, or to software like Power BI to build out your own custom dashboards and reports. Eliminate the need for manual data entry, and convert to a fully paperless factory.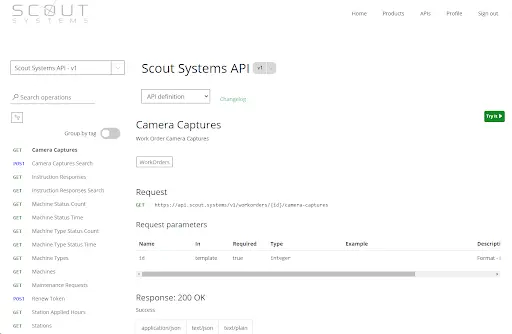 Your Strategic Partner
Change is always great on paper, but tough to make real in a factory stuck in the last century. Our team of experts do nothing but assist manufacturers transform their factory to the digital world. They listen to your challenges, limitations, and organizational goals to assist you in creating a data-driven roadmap.
Learn more