Experience Modernized Operations
Scout System's digital solution adapts to fit virtually any type of manufacturer. From Assembly to Machining, Single-Piece-Flow to Batch processes, this universal solution will help streamline your operations.
CATCH UP WITH INNOVATION AND IMPRESS CUSTOMERS
Reduce Operational Costs
Experience a 5-15% increase in your capacity due to automating high labor tasks and reducing waste.
Secure Tribal Knowledge
Rapidly create work instructions, simplify revision control, and reduce training time for new employees.
Improve Quality
Implement inline quality assurance methods to reduce defect occurrences and lower the cost of quality.
Used by Operators on Production Floor
Provides Daily Build Schedule
Easy to follow Digital Work Instructions
In-Line Quality Assurance
Data Collection & Analysis
For Managers and Office Staff
Control / Adjust Schedule
Update Work Instructions
Access Production Reports
See Live Time Statuses
Near-Universal Edge Device
Works with Legacy and Modern Machines
Add to Test Equipment to Validate Results
Touchless Software Navigation
We exclusively serve Manufacturers and their needs. See the expanded feature list.
EMPOWER YOUR OPERATORS
Give your Operators the tools to do their job better as well as help the company improve overall operations.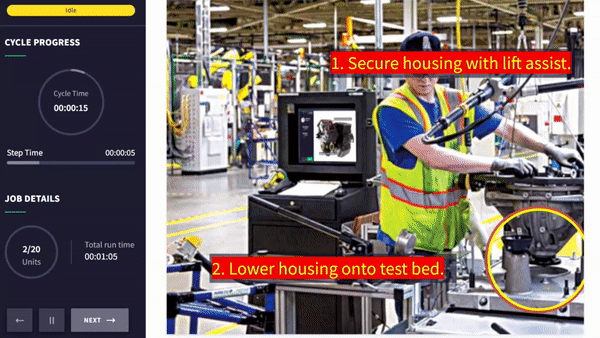 Digital Twin
Empower your management staff with the ability to monitor your factory from any device around the world. View real-time production dashboards and instant notification of Production Stops.
Learn more
Production Analysis
Measure your production stops down to the second. Discover which operators are best performers, and have confidence in the expected labor.
Learn more
Frequently asked questions
Everything you need to know about the product and billing.
What type of computers can I use?
Compass can be run on Tablets, Laptops, or Desktops that are running Windows. HQ is accessible on any device and operating system.
How difficult will this be for my IT Department?
The efforts required are minimal, IT will need to be present for the installation of Compass. On average an installation takes 3 minutes per computer.
What if my internet isn't very good? Is Wifi strong enough?
Wifi should be sufficient - the stronger the signal the better. Our platform is also designed to be able to maintain data integrity during intermittent internet access if dropouts were to occur.
What type of manufacturers use this platform?
Our technology is installed worldwide to manufacturers ranging in size from start-up to 10,000+ employees. The platform offering is so vast and configurable, it works well with Assembly, Machining, Plastics and Robotics.
Is this a cloud-based platform? How secure is it?
Yes and very! Our platform is stored on Microsoft Azure and we practice industry standards for security and data backups. We can provide detailed specifics upon request.
Is there a free trial available?
No, this is not something we offer. We personally guide new customers through the configuration, installation, and training of the platform. Historically we've found that playing around with a free trial results in very slow uptake throughout your facility - our goal is to get you fully functioning in 90 days or less.
Can I use my on-site servers?
It is technically possible though very rare. If you must use an on-site server we will need to discuss a custom maintenance plan for your needs.
Is this a monthly subscription, or how do we pay for this system?
Yes, as a SaaS there is a monthly subscription cost. We only charge for Compass stations while access to HQ and every User is free. Billing can also be done quarterly, bi-annually or annually.
Is your edge device included in the price?
No, Trackers are optional and sold (or leased) separately.
Do I own my data? What about my designs?
Absolutely yes! All data and work instructions are your property. More information on this is provided in our Terms of Service.
What does the Smart Tool integration look like?
Smart Tool integration can be a vast offering. From commercial tools to even home-built equipment. Ultimately, the integration is looking for validation that the appropriate action has taken place.
Can my operators sign in at more than one station?
Yes they can, but this will lead to doubling their Applied Hours in the system. If this is common in your facility, inform your Customer Success Representative and they will review the best practices with you and your team.