Tracker
A collection of 2 posts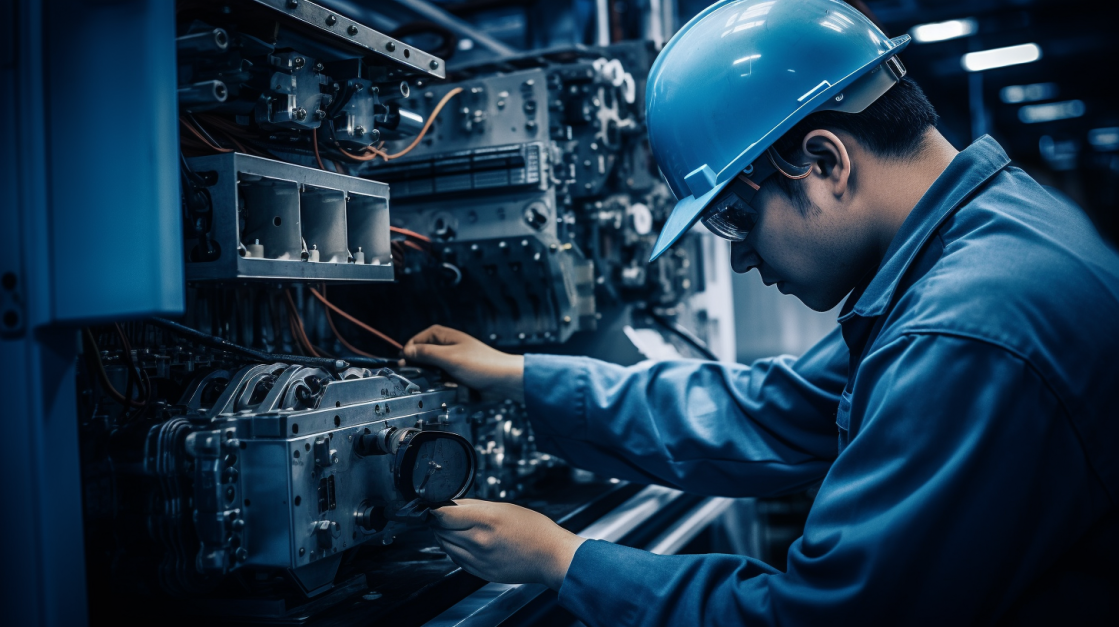 In this training we will review the types of signals to search for, as well as how to utilize Technician Mode of Compass.
Locating a Value-Add Signal
Tracker's purpose isn't solely that of a conventional data logger. Instead, it serves to track and validate value creation within the production process. Consider this example: knowing that a Press brake is turned on doesn't inherently contribute value, as Compass already tracks the overall time spent on a Work Order. The true value comes when a part is actually bent. However, in cases where Press brake Operators need to pulse the Downstroke multiple times to achieve a single bend, using the Upstroke of the machine offers a cleaner representation of a single operation.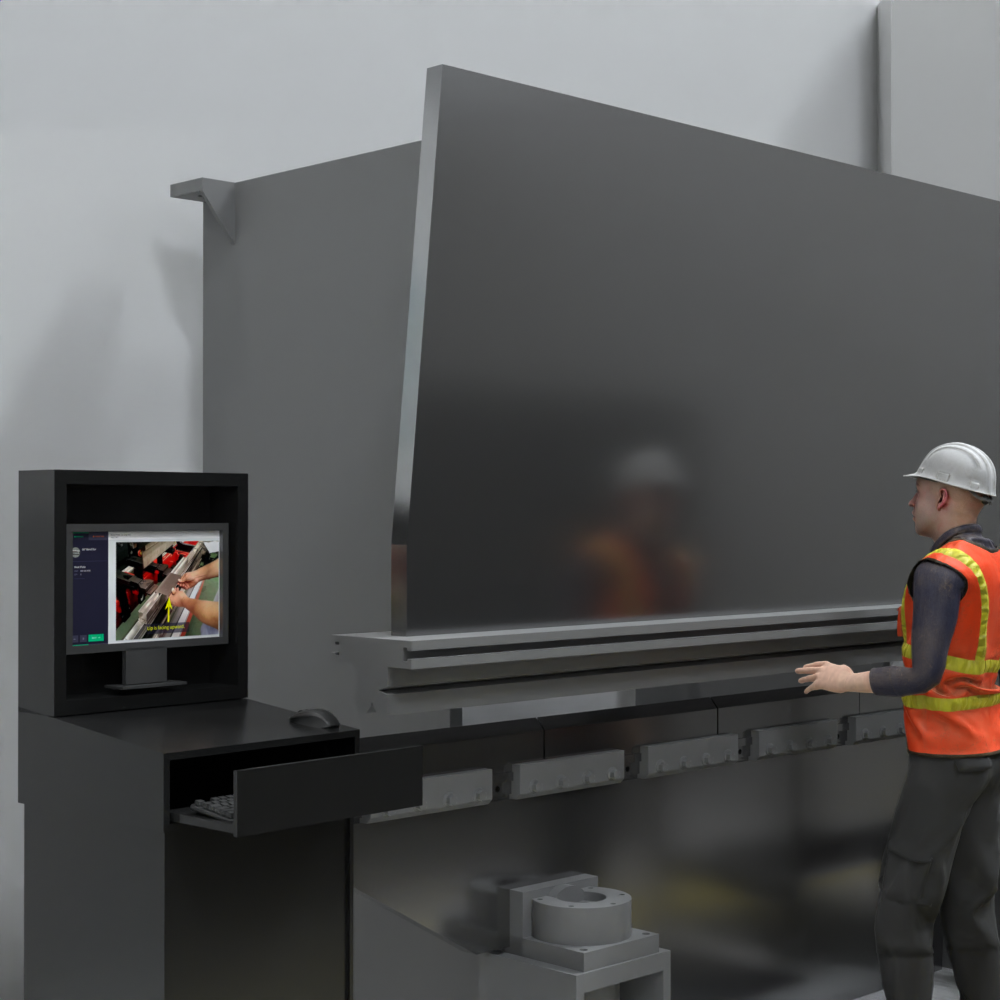 Another case in point involves a CNC Plasma Cutting table. Instead of closely monitoring the movement of the gantry, which might not directly contribute value to the production process, a more meaningful signal would involve tracking the torch itself. This signal indicates that actual product cutting is occurring, thereby adding tangible value to the process.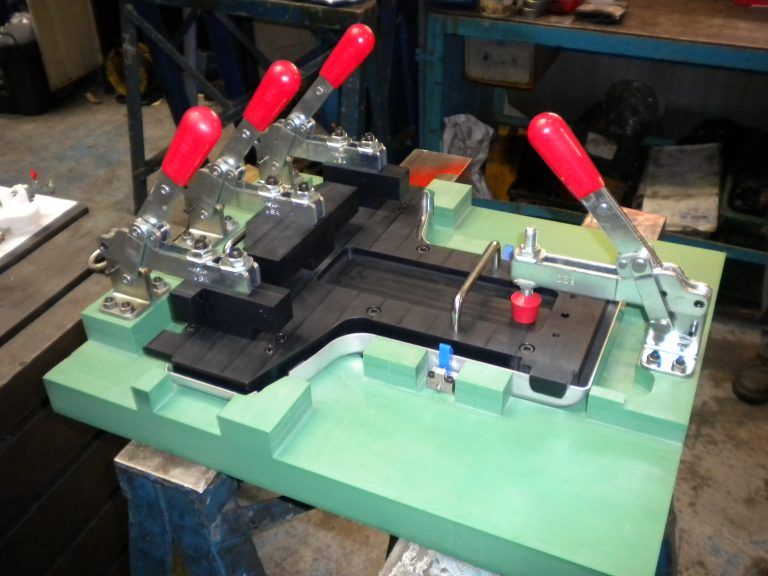 Tracker's utility extends beyond equipment; it can also be applied to intelligent jigs and fixtures. This can be achieved by using limit switches in series, effectively confirming that all contact points have been met. This integration ensures that the fixture is set up correctly before proceeding with the production process.
Machine Signals
To access Technician Mode in Compass, use the Access Key '1111' when logging in. Once inside, click on the "EDIT" button located in the top-right corner of the screen to initiate changes. If no machine signals have been set up, click the green '+' sign to add them.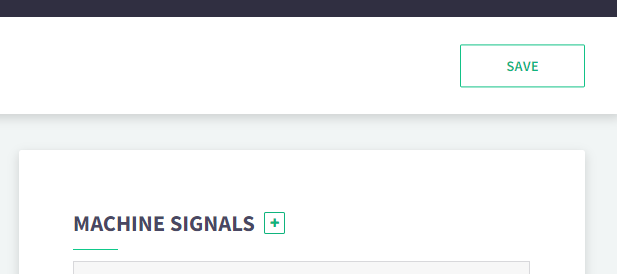 Performing this action will open a module where you can enter a Machine Alias. This should be a distinct and defining name for the piece of equipment. For instance, if you have two press brakes named PB1 and PB2, the Alias should be something like PB1 or PB2, rather than a general term like "Press brake."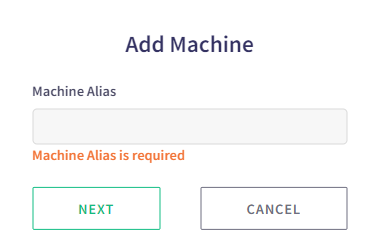 Next you will be prompted to enter a Machine Type. Continuing the previous example, this is where you would use the more generic category of Press brake.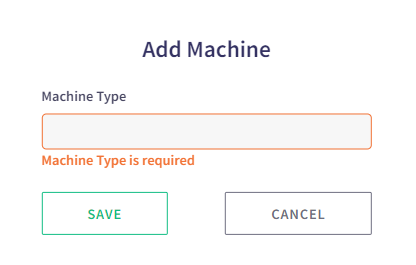 After creating the Machine, the next step is to assign the signals that it will be monitoring. Click on the "ADD SIGNAL" option to configure these signals.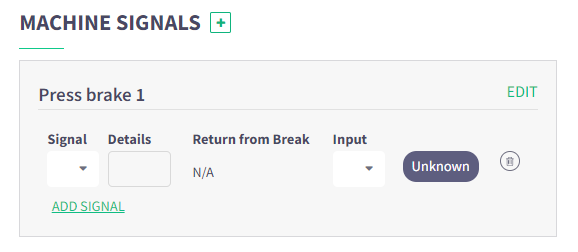 You have the option to choose from 7 different signal types, which can be used independently or in conjunction with others:
Next - when sensed will press the NEXT button on Compass
In Cycle - will notify Compass Value is being created
E Stop - will notify Compass there is an Emergency Stop
Pass - will notify Compass that a Quality Check succeed
Fail - will notify Compass that a Quality Check failed
Close Job - will notify Compass to conclude an Instruction-Less job
Pause - will notify Compass to open the Pause Screen
Details represent the trigger state of the signal. If the signal is normally high, set to 0. If it is normally low, set to 1.
The "Return from Break" is a toggle option. If this signal is sensed during a Scheduled Break, Compass will automatically resume Production Mode. If you leave this option disengaged, Compass will continue to stay in Scheduled Break Mode regardless of whether a signal is sensed or not.
By clicking on INPUT you will be presented all ports of Tracker to select which the signal has been physically connected to.
When all conditions are set, you can either Add another signal by pressing ADD SIGNAL or to save changes by pressing SAVE at the top-right.
Tracker Signals
Unlike Machine Signals, which are recorded actions that can appear in reports, Tracker Signals are not recorded actions. Instead, they are used to assist operators in navigating Compass.
Creating Tracker Signals is similar to Machine Signals, the exception it does not allow the Return from Break.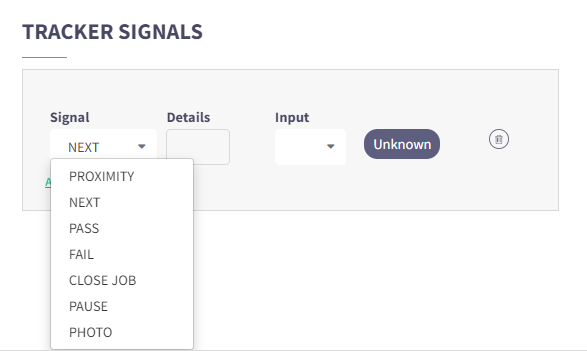 In Cycle is not available for Tracker Signals, and instead has 2 others:
Proximity - will notify Compass that an Operator is not present and press Pause
Photo - for Instructions requiring Photo Capturing, this will activate the picture to be taken

4 min read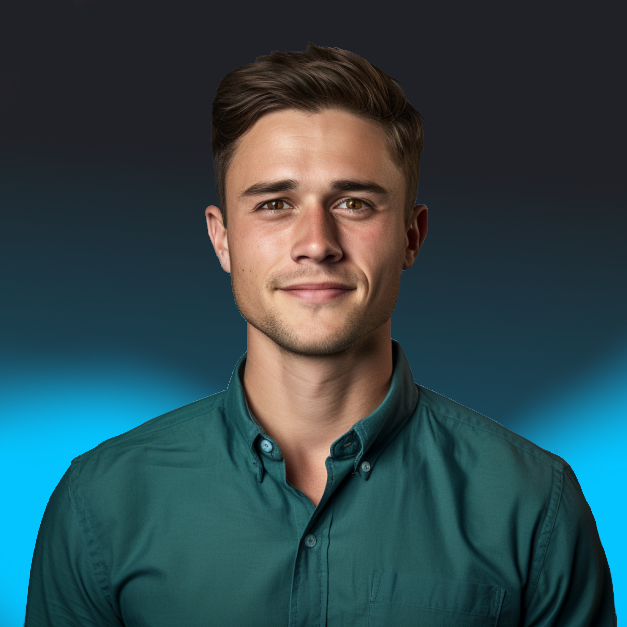 Read article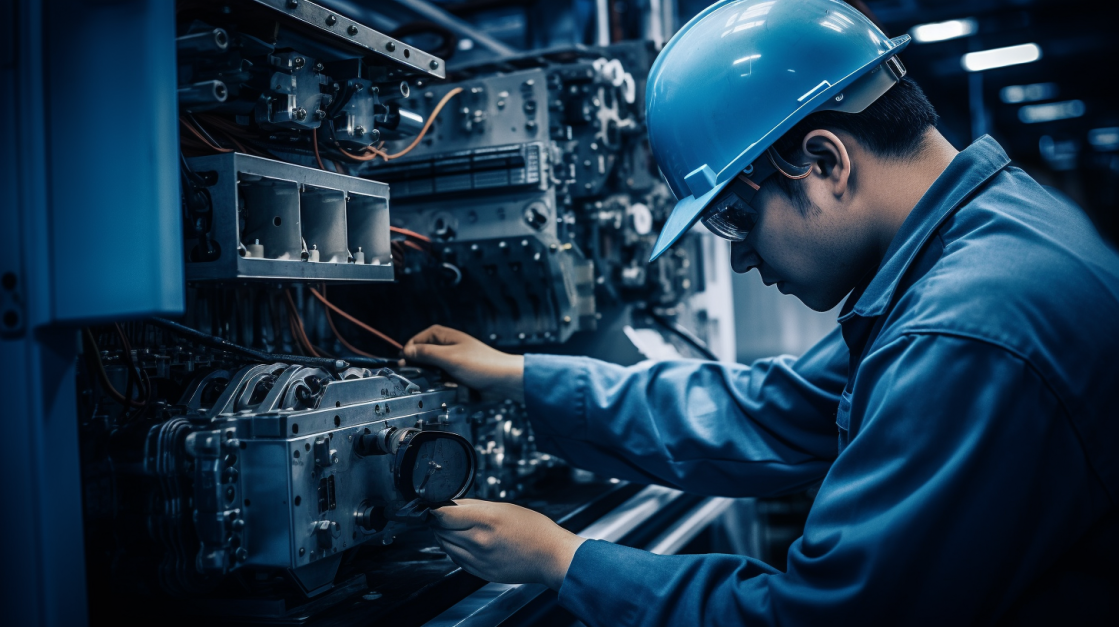 The purpose of this training session is to familiarize Technicians with the integration capabilities of Scout Systems via the utilization of Tracker. Tracker serves as Scout System's edge device, designed to function as a versatile signal interpreter that can be installed on a wide range of commercial and custom-built equipment, enhancing connectivity and functionality.
Tracker Inputs
Crafted to be robust and highly versatile, Tracker boasts two PNP ports (7.5-42 vDC), two analog ports, and four continuity ports (2.5 mm barrel), offering compatibility with a diverse array of equipment signals.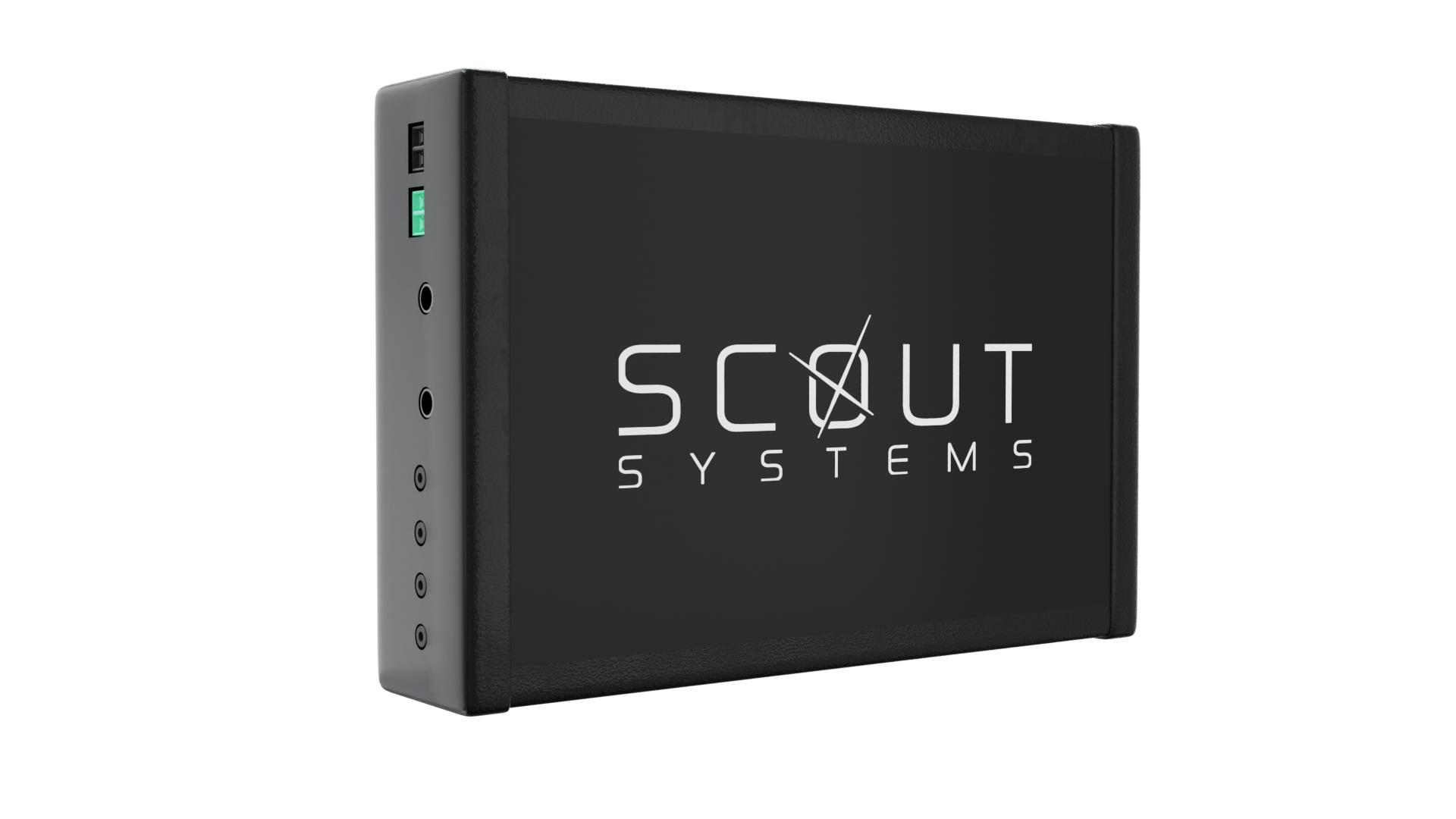 For machine integration, the PNP ports are the most commonly used inputs. These inputs are opto-isolated and only sense the flow of current without drawing any amps themselves.
Hydraulic machines, Jigs and Fixtures, Limit Switches or Pedals commonly use the continuity ports.
Analog ports are exclusively used for Scout Systems Proximity Sensors. This is an advanced feature of the platform and is recommended only for established customers.
Technician Mode
Tracker itself does not necessitate firmware updates, as its logic is managed by Compass, the production floor software. To access Technician Mode, users can use the Access Key "1111" from the Compass login page.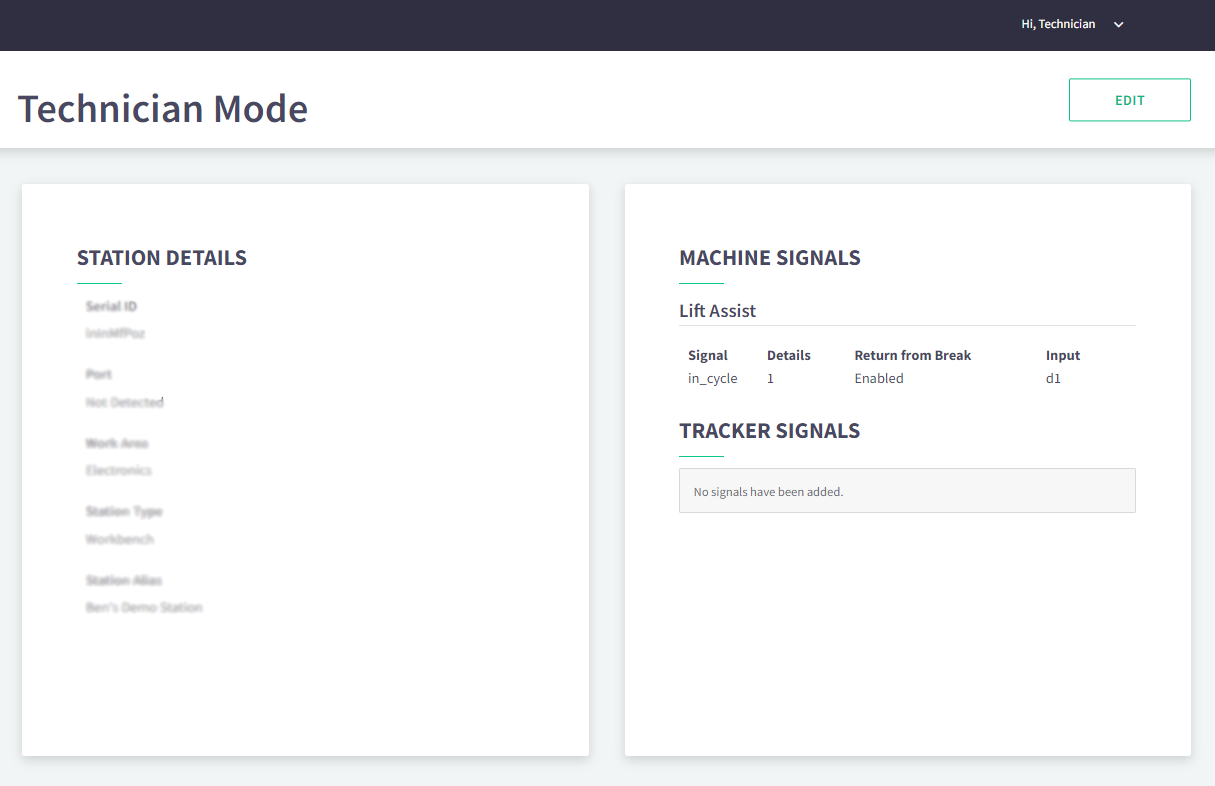 Tracker Communication
Tracker communicates with Compass through a USB type B cable, establishing a direct connection between Tracker and the computer. Compass employs a Service Application running in the background, ensuring encryption and facilitating communication between Compass and the computer's COM ports.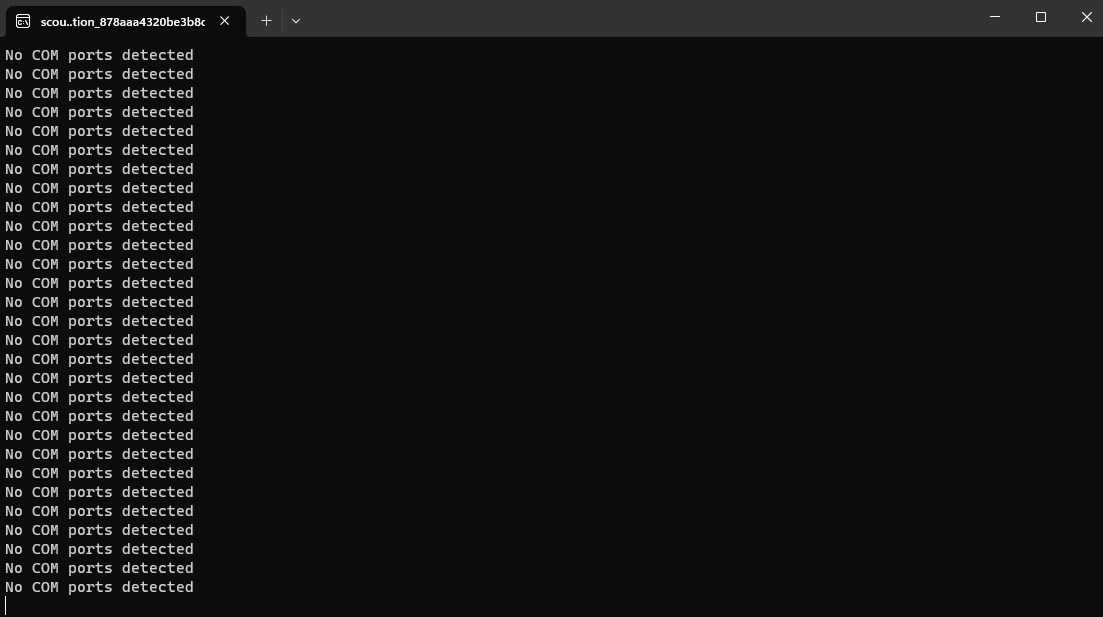 Both the Service Application and Tracker incorporate Watchdog logic that resets on a 2 second timer, enabling them to autonomously rectify any communication errors that might arise between the two components. In the image provided above, it's evident that the Service Application has not detected any equipment connected to the computer's COM ports.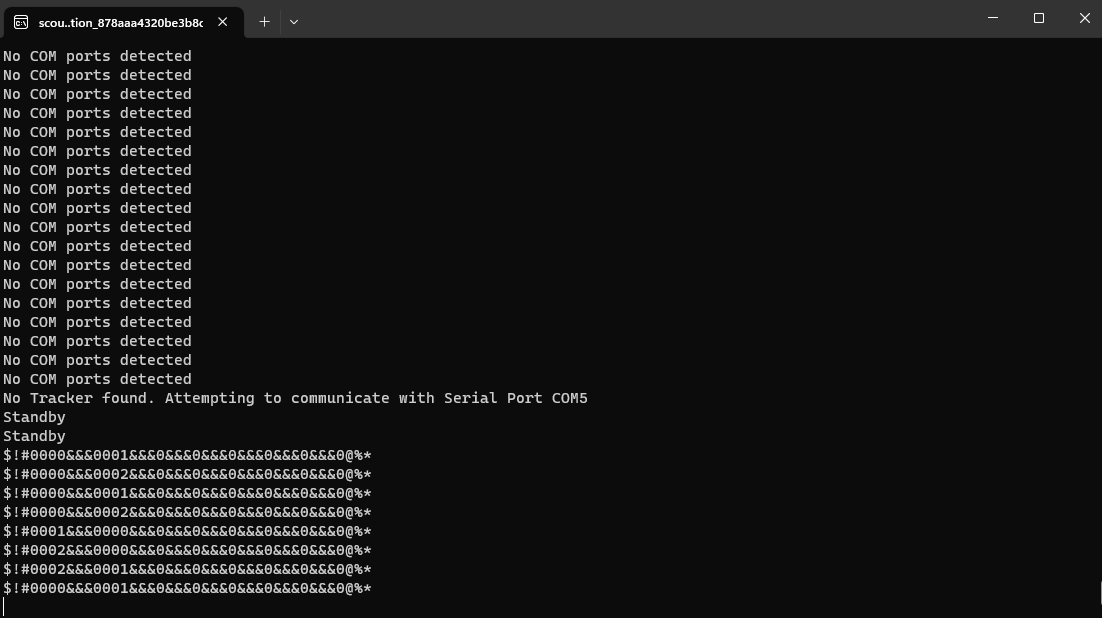 Once a Tracker has been successfully connected to the computer, the Service Application will promptly establish communication, leading the displayed text to transform into a string of alphanumeric characters. This transformation indicates the establishment of the communication protocol and confirms the successful connection between the two devices.
Communication Latency
Tracker communicates with the Service Application at a rate of four times per second. If you encounter issues where the computer fails to detect a Tracker or experiences frequent disconnections, the likely solution is to reduce the computer's latency. To achieve this, navigate to the Device Manager on your computer and locate the section labeled "Ports (COM & LPT)." In this section, you will find two COM Ports associated with Tracker, listed in numeric sequential order. The higher number among the two indicates the Port that requires adjustment for optimal performance.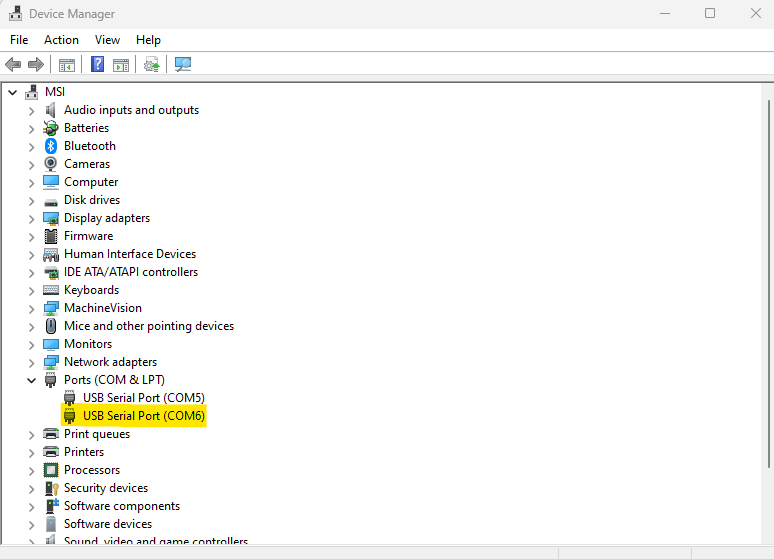 Right-click on the desired Port and select Properties. Switch the menu to Port Settings, and select Advanced.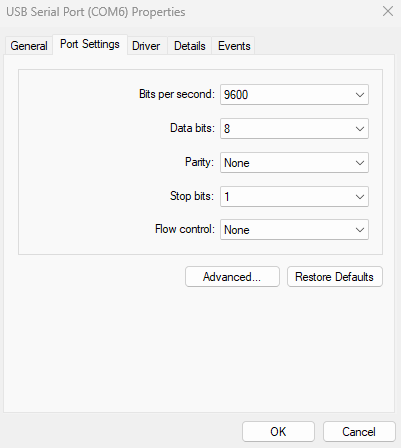 The default latency is usually set at 16. To address any communication issues, consider reducing this number to 4 or even lower. Once you've adjusted the latency, confirm the changes by clicking OK, and then again by clicking OK once more. In some cases, the computer may prompt you to restart; however, if the Service Application successfully establishes communication, a restart might not be necessary.

3 min read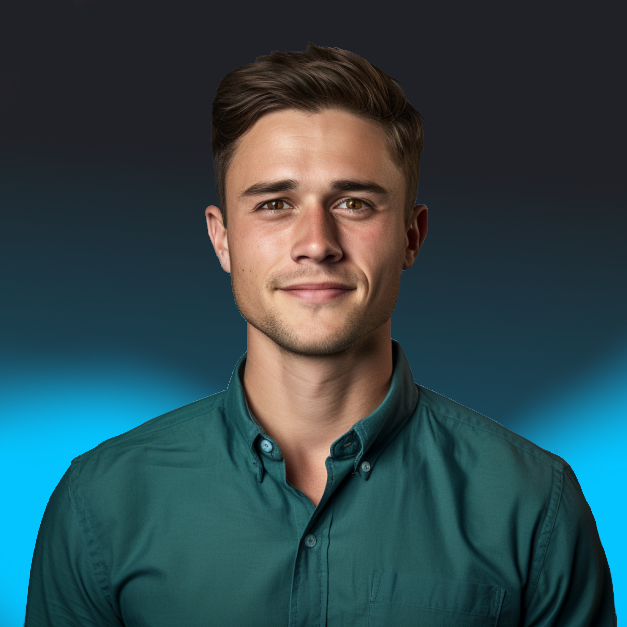 Read article