In this training we will review signing into Compass, modifying the user's settings, as well as signing out and closing the application.
Logging into Compass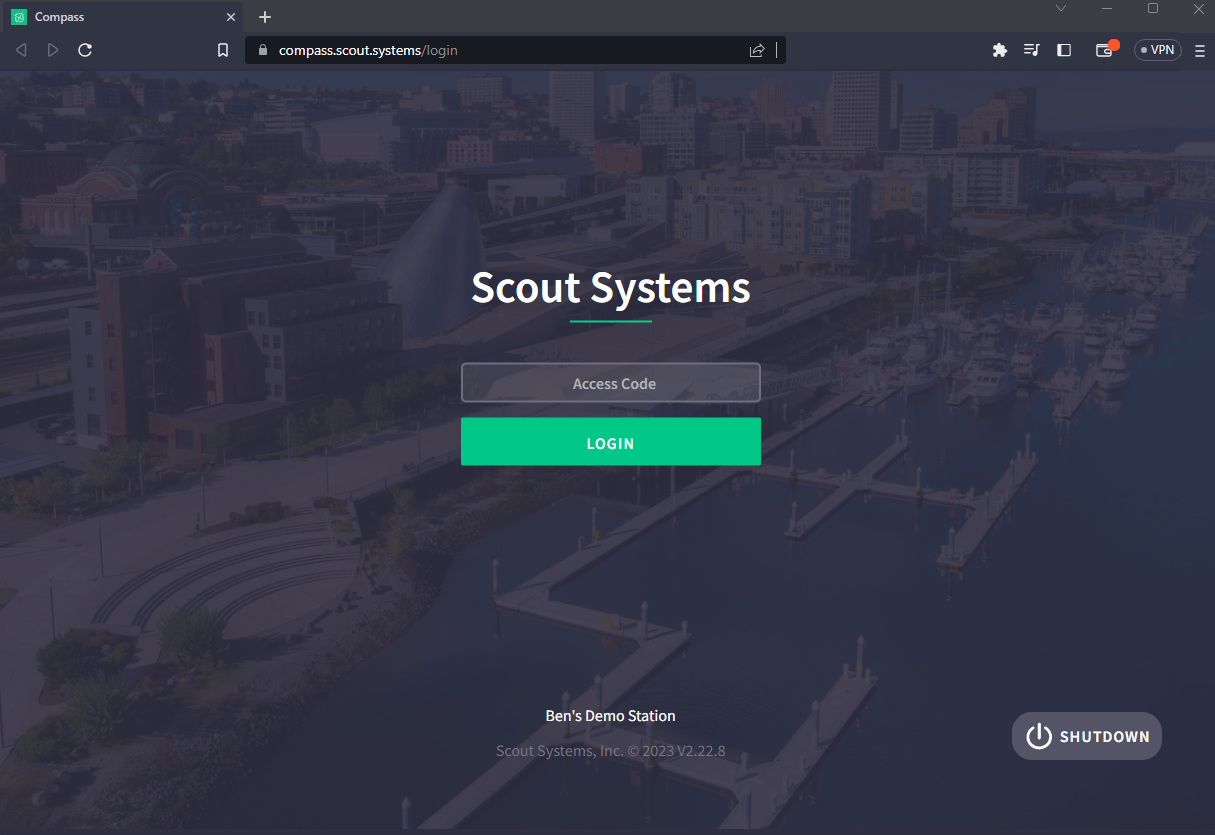 With a successfully connected Service Application, your operators will see a screen displaying your Company and Station Name. At the center of the screen, there will be an input box labeled "Access Code". To log in, operators need to enter their User-specific Compass Access Key - provided to them by your HQ Admins.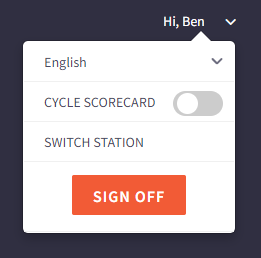 Upon entering a valid Access Key, operators will be successfully logged into Compass. At the top right-hand corner of the screen, they will see their name displayed, accompanied by a downward-facing arrow located to the right of their name. By clicking on the down arrow, operators can access the user settings menu.
Selecting Language

One of the significant advantages of using Digital Work Instructions is the flexibility to translate instructions according to the operator's preference. In Scout Systems, operators have the ability to change their default language settings to suit their needs.
To change the default language setting, operators can follow these simple steps:
Click on the downward arrow next to the language displayed in the top right-hand corner of the screen.
A drop-down menu will appear, showing the available language options.
Operators can select the desired language from the list by clicking on it.
Click 'SIGN OFF', and then log back in to the account.
Cycle Scorecard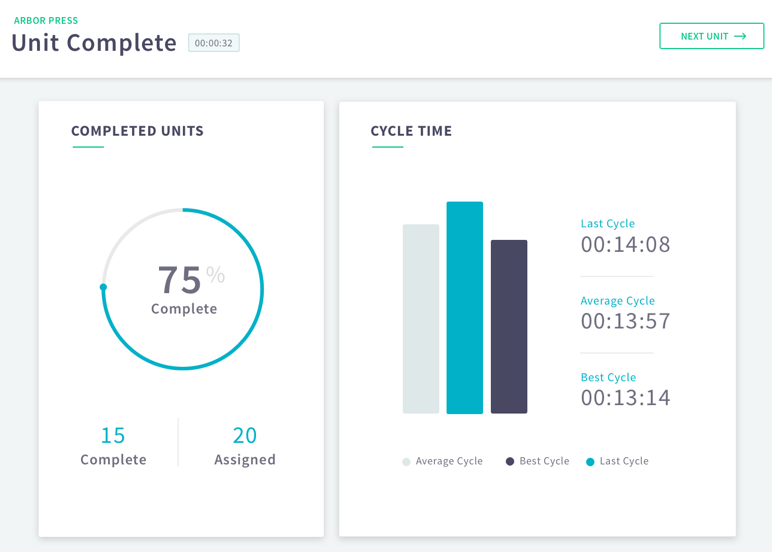 To create buy-in and engage operators, sharing production data can be a powerful strategy. In Scout Systems, one effective way to achieve this is through the use of the Cycle Scorecard feature in Digital Work Instructions.
When operators have the Cycle Scorecard turned on for their account, they will see a quick production report displayed following the completion of each unit they build. This report provides valuable insights into their production performance, including metrics such as cycle time, average times, best time, and order progress.
To enable the Cycle Scorecard feature, operators need to toggle it on in their user settings menu. This can be accessed by clicking on the down arrow next to their name at the top right-hand corner of the screen. After making the necessary changes in the user settings, operators will need to sign out and sign back in for the changes to take effect.
It is important to note that the Cycle Scorecard feature is best suited for products with longer cycle times. In fast production environments, where cycle times are short, it may not provide as much meaningful data and may not be as beneficial.
Station Switching
If your operators utilize assigned laptops and frequently move to different production cells, the Station Switching feature can greatly benefit your facility. To use this feature, operators can simply click on 'SWITCH STATION' from the user menu.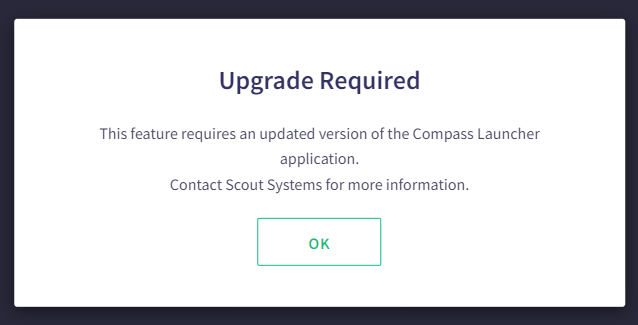 However, it is important to note that the Station Switching feature needs to be enabled by your HQ Admins. If you encounter an error message indicating that the feature has not been turned on, it is necessary to contact your HQ Admins for resolution.
Once the Station Switching feature is engaged, a module will be displayed, presenting a list of all available stations within Scout Systems. To switch to a different station, operators can simply click on the desired station from the list.
By selecting a specific station, Compass will automatically convert its settings to match those of the chosen station. This includes adjusting the configuration, preferences, and any relevant data associated with the selected station. This seamless transition allows operators to smoothly switch between different stations without the need for manual adjustments or reconfiguration.
Exiting Compass
In Scout Systems, all production data is meticulously mapped to the operators and stations responsible for building the products. This mapping enables a comprehensive understanding of the production process, helps identify complications, and allows for the discovery of causes behind mistakes or issues.
To ensure the accuracy and integrity of the data, it is highly recommended that users develop a habit of signing out of Compass at the end of their shifts. By signing out, operators can ensure that the data associated with their activities and performance remains accurately attributed to them.
When closing Compass, it is important to ensure a clean start for the next session. To achieve this, it is recommended to close not only the Compass browser tabs but also the Service Application.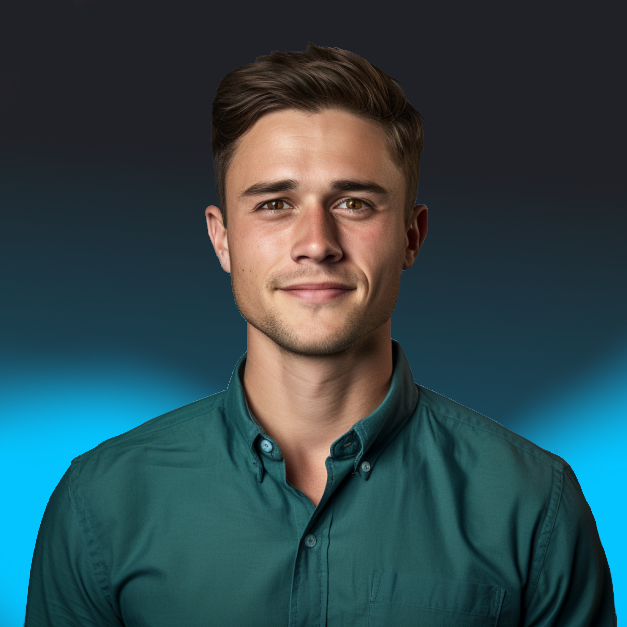 Cody Sharpe
I stare at computer screens more than anything else, I get teased for my 3 monitors. At home me and my friends are overly obsessed with video games, especially Rocket League.